A sport is a naturally occurring genetic mutation. Some types of roses produce sports more often than others, but a sport can occur with virtually any rose. Peace is a popular rose that has produced a number of well-known sports. And some of the Koster family of polyanthas have multiple generations of sports in their lineage. It might seem that sports occur more often in certain gardens, but if you look closely you're likely to discover sports on your roses, even if you only grow a relatively small number.
Some sports are unstable, reverting almost immediately to the parent. Others may be somewhat stable, with partial or full reversion likely over time. And other sports are quire stable, though even these may ultimately show some signs of reversion if watched long enough. Sports can take a number of different forms; two of the most common are sports that are virtually identical to the parent except for the color of the bloom and climbing sports, where the bloom may be the same but the rose mutates into a climbing version of the variety. It isn't my intention to go into the genetics of sports here, but rather to give you a different perspective on sports -- that of a rose nursery owner.
While sports can be wonderful and rose growers may be wildly enthusiastic about them, they can often pose serious dilemmas for the nursery owner. I'll use three examples -- all roses that we offer or have offered -- to demonstrate my point.
Example #1 - Trump Card is a sport of Rosie O'Donnell, identical to Rosy in every way except for the color of the bloom. Where Rosie is red with a creamy yellow reverse, Trump Card is bright pink with the same creamy yellow reverse.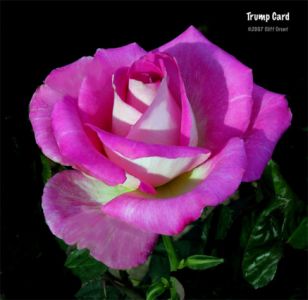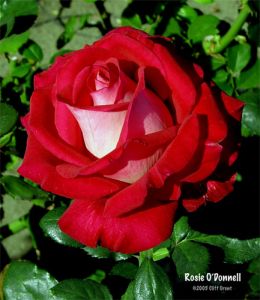 I discovered this pink sport of Rosie O'Donnell in my former garden in Palm Springs not long after I first started growing roses. The cane was isolated and watched for a few bloom cycles to see if it continued to produce pink blooms. When it did, bud wood was taken to propagate new plants to see whether it was a relatively stable sport. In the years since Trump Card was discovered, I have yet to see a single red bloom on plant of Trump Card, so it has turned out to be a very stable sport. I should add that it's a terrific garden rose -- quite vigorous, with great repeat and high bloom production.
Example #2 - Freddie Mercury is a sport of Tina Turner. As with Trump Card and Rosie O'Donnell, the only difference between the two is in the color of the bloom. Tina Turner produces orange blend blooms, where Freddie Mercury's blooms have more yellow, but also with reddish/orange tones.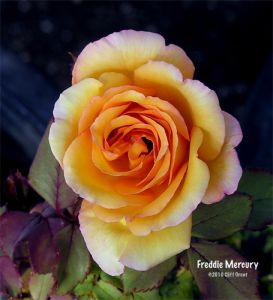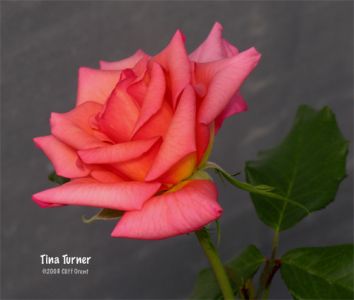 I've been growing both Tina Turner and Freddie Mercury for about six years, and until this past season I hadn't seen any hint of reversion on Freddie Mercury. Then, gradually, one of my Freddie Mercury plants started to produce blooms that were clearly Tina Turner in color -- first on just one cane, then gradually on virtually the entire rose bush. Yet the other Freddie Mercury bushes that were purchased at the same time have shown no sign of reversion -- so far.
Example #3 - Abracadabra (the Kordes hybrid tea) is one of the most sought after roses we've offered. For whatever reason, rose growers are fascinated by this unusual rose with its blooms of yellow and red stripes. Abracadabra is a sport of Hocus Pocus, which also boasts red and yellow stripes, and which itself is a sport of another rose -- Black Beauty, the blooms of which are solid dark red to maroon in color.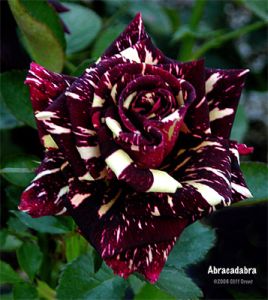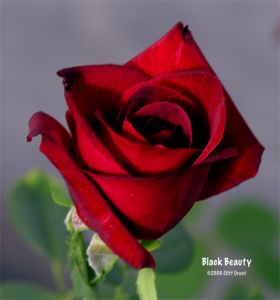 When it comes to reversions, Abracadabra doesn't fool around! In the same flush I've seen the hoped for purple and yellow blooms, solid maroon blooms and even the occasional solid yellow bloom. Moreover, I've had Abracadabra produce both solid maroon blooms and striped blooms in the same spray!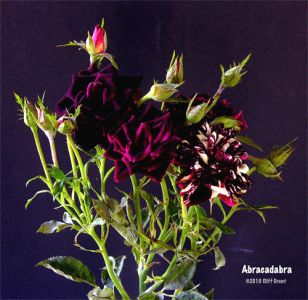 What does all of this mean to a rose nursery owner? You may find the Abracadabra story amusing, or even enchanting. But it presents all sorts of issues for the owner of a rose nursery. Customers expect Abracadabra, the delightful rose that produces striped red and yellow blooms. But since Abracadabra's blooms are anything but predictable on my mother plant in the garden, there's no way that I can assure customers that the rose they'll receive will in fact produce the striped blooms.
In order to increase the likelihood that a given plant will produce a striped bloom, we will no longer ship a plant of Abracadabra that has not yet bloomed. And that first bloom must be striped rather than solid, or we won't ship it at all. Since Abracadabra isn't the fastest growing rose following propagation from cuttings, this only increases an already lengthy period before a given plant can possibly be shipped. And since a good number of first blooms are solid, this significantly reduces the number of salable plants from any given round of propagation. Even if we doubled the already higher end price of Abracadabra, it's doubtful that it would be worth our time and effort.
When customers are told this story, some find the rose even more interesting and reply that they would like plants, regardless of what type of first bloom is produced. But others are quite insistent that their Abracadabra must produce the striped blooms for which it is known. And, sadly, even if the first bloom is striped, we cannot guarantee that the plant will continue to produce striped blooms, or that it won't eventually revert to solid maroon blooms at some time in the future. So there you have the story of a popular sport from the perspective of a rose nursery owner!
In closing, I should add that so far we've not had anywhere near the extent of this problem with Freddie Mercury, and new cuttings are being taken from the plants that have yet to show any reversion.
Trump Card, Tina Turner and Freddie Mercury are all available from my nursery EuroDesert Roses.
This article reprinted from the EuroDesert Roses newsletter "Cliff's Notes".