About twenty years ago, I began volunteering at The Huntington Library and Botanical Gardens in San Marino, California. I have never been one for deadheading roses, or any other plants. I wanted to learn to propagate them! Clair Martin, the Curator of Roses, put me to work with his propagation volunteer, and my adventure had begun!
There were many neat, unusual and little-known roses all over the gardens. The nursery held even more jewels. In a three-gallon can, resided what resembled a Cypress gnarl, with a short, thin cane sticking out from the side, about four inches long and the thickness of an eyebrow pencil. At the end were a few double, cupped, pink blooms with a bittersweet Multiflora type fragrance. There was no identification on the plant. It looked very interesting, so I potted it into a fifteen-gallon nursery can, and began paying special attention to it each time I went out to work the cuttings in the mist propagator.
I asked Clair what he could remember about this rose. He said it was created by a breeder in Northern California, and had never been introduced. Someone in the nursery business, had given it to him, but he could not remember who. The plant grew and began producing larger and larger clusters of those rich pink, fragrant blooms. Whatever it was, it was a very nice rose.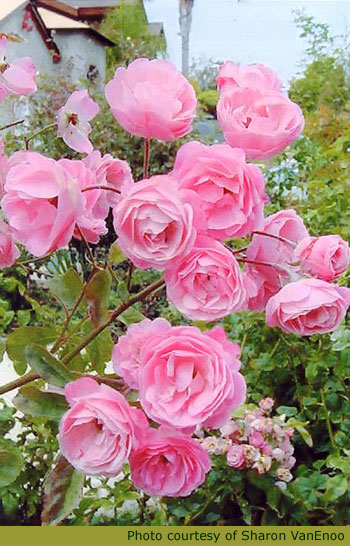 As it grew, I thought we had better reproduce it to prevent its loss. I labeled it "Pink Cluster Test" in order to keep track of it. Of course, one of the first plants I propagated came home to my garden. It is still growing there. We propagated it as rapidly as the one plant would throw sufficient growth, and every plant we made, quickly found a home. Quite a few were sold at Huntington Plant Sales, and in several of the Huntington Old Rose Symposium Sales. One plant went home with Sharon VanEnoo, and still grows in her Torrance, California garden. It holds a prominent position along her front walk, at the top of the stairs, on the way to her front door.
A few years later, Roger Philips and Martyn Rix arrived in Southern California to photograph roses for their exceptional book, The Quest for the Rose. The book was paired with a garden series of the same title for BBC Books, of the same title, chronicling roses throughout history and around the world. Sharon did not like the name, "Pink Cluster Test," so she dropped the "Test" part. They photographed the rose in her garden, under the name, "Pink Cluster," and the incredible photograph appeared on page 181 of the book, labeled "Pink Cluster." The caption reads:, "Pink Cluster. A very free flowering old Floribunda now very difficult to get. Surely this rose should be more available? Raised by [see note] Morse in USA, launched 1938. Height to 60 cm (2 ft). Some scent. Photographed in the garden of Sharon VanEnoo, Los Angeles." Dropping the "Test" from the name created the confusion about who created the rose, resulting in the misattribution.
At one of the Symposium sales, the folks from Heirloom Old Garden Roses attended, and I sold John Clements many of the neat and rare roses we produced from the amazing collection there at The Huntington. Six months later, this rose appeared in their rose selection, named, "Morey's Pink." He had evidently seen its match in Muriel Humenick's wonderful garden and nursery, Rose Acres, in El Dorado, California. She knew the history of the rose, as Dr. Dennison Morey, once the rose breeder for Jackson and Perkins, and the owner/operator of his own rose nursery, Country Rose Gardens, had created it and shared a plant with her. This plant may still grow in her garden. I saw it there years ago. Muriel had shared a plant of it with The Huntington.
Now we knew who created the rose, and it had an "official" name, but nothing else was known about it. Through Muriel, I received Dr. Morey's address. I wrote him, inquiring about this rose. He responded the rose was something he had created and always liked, but felt it was quite a bit ahead of its time. He feared it would not be "commercial," as it did not fit the then-current style in roses. He never indicated when the rose was germinated, nor when the cross was made. He did, however, share the parentage of this rose in the letter. He had been using several of Ralph Moore's miniatures in his breeding. He created a seedling from a cross of Janna (1970) X Judy Fischer (1968). He thought this was a very good breeder and would be quite useful for further use. He raised a self-seedling from it, and this is our "Morey's Pink China". Because the parents were released in 1970 and 1968, we can probably guess the rose germinated sometime in the 1970s, as it had been around for a while by the very early 1980s.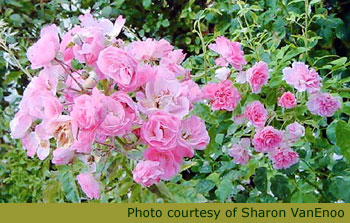 However, it is not NOT a China! Janna has several doses of the floribunda, Little Darling, which has quite a large dose of R. Wichurana genes, as well as Moore miniature genes, derived from R. Wichurana. Judy Fischer is Little Darling X Magic Wand, a very useful breeder of Mr. Moore's. Magic Wand came from Polyantha X (Polyantha X mini). This rose has a heavily stacked deck full of R. Wichurana blood. Think of it as a dwarf, two to three feet tall, by about as wide, continuous blooming, double, fragrant, pink shrub, and you have a very good picture of it. You could even consider it a modern Polyantha, from its continuous blooming and its huge clusters of flowers. The foliage shows R. Wichurana influence, being much harder and resistant to mildew and other fungal difficulties. It is lightly armed with sharp prickles. It appears Heirloom was just as confused about where the rose belonged. The introduction in their 1995 catalog listed it as "Morey's Pink" a Polyantha, calling it "one of the last roses bred by Dr. Morey" and stating the year of introduction as 1994. By 1998, they had rechristened it "Morey's Pink China" and relocated it to the China class. Modern Roses 11 considers it a shrub. The Combined Rose List, 2003 suggests it could be a "Patio Plant.".
Clair never wanted to put it in the Huntington Rose Garden, because he did not have an identity for it, and felt he really should not tease garden visitors with an unknown, unnamed rose. I do not know what eventually happened to the original Huntington plant. I do know it still resides in Sharon's garden; my garden; a very mature, beautiful plant at The Homestead Acre, in Chatsworth Park, Chatsworth, California, and is available from Sequoia Nursery, The Uncommon Rose, Ashdown Roses, and Vintage Gardens. It is an interesting example how roses from many sources all trace back to one, solitary plant. All of the "Morey's Pink China" have come from Muriel's plant El Dorado. It is taken years, but it has finally made the rounds.
We are fortunate this rose did not suffer the same fate as the other neat roses Dr. Morey held on to because he liked them. This one still exists for our pleasure.
A short hedge of "Morey's Pink China" would be spectacular! It would make a beautiful specimen in a rose bed. I would love it as a budded tree rose in a pot on the balcony. If you love loads of blooms in huge clusters, this is definitely one for you. Give any one of the sources I have listed above a call, and bring one home to your garden. You will not regret it. Thank you, Muriel, and most of all, Dr. Morey.